I'm moving this post from a blog I used to have... I was excited to write it and it was fun and colorful - plus it's storming right now. It was storming when I posted it in the first place...
Originally written September 30, 2008
Saturday evening I played a fun waiting game... Wait, wait, wait, plan... All in order to get an Etsy Treasury spot. The game paid off and I got a spot. Goodie! I'm very proud of this treasury... It's been raining a lot lately so I decided to do a whole "silver lining" theme. Finding the silver lining in crappy weather means - silver jewelry! So to make the treasury more interesting than just silver jewelry pieces I chose pieces based on the background colors. I set it up to be a spectrum of sorts... I dig it, so should you. It's up until Tuesday - late afternoon. Please check it out and click away. The artist's deserve their work looked at in full views. Plus, the pieces are inspiring to anyone who creates!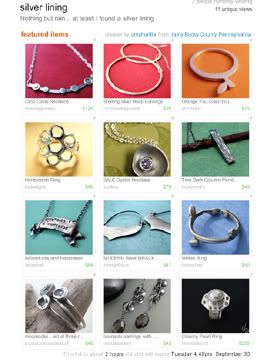 Wow, the storm just picked up and right now I'm sitting here hoping the power doesn't go out! Doing laundry won't be much fun without electricity.
Hugs-
Caitlin